Managing Diabetes and Wounds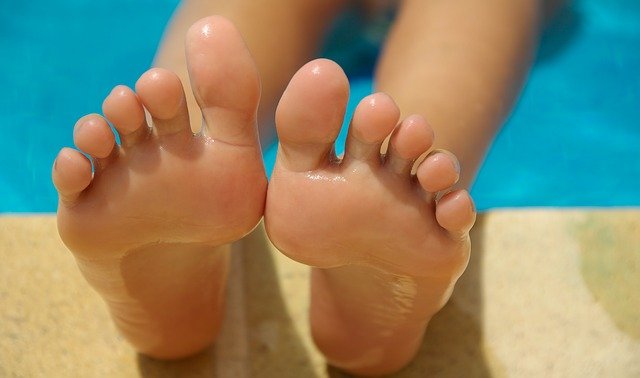 Diabetes is chronic condition that affects how your body turns food into energy.
Whenever we eat, most of the food breaks down into a sugar called glucose which is then released into the blood stream. This increase in blood glucose triggers the pancreas to release insulin – a hormone that allows your body to use glucose for energy.
People with diabetes either don't have enough insulin or can't properly utilize the insulin being produced in their bodies. This causes an increase in glucose in the bloodstream, making the blood thicker. In effect, this blood thickening can affect blood flow, especially to the extremities where the bloods vessels are the smallest. If diabetes is not managed properly, blood flow in these blood vessels are at their minimum or worse can get clogged, depriving the surrounding tissues from vital nutrients and oxygen. This cause 2 conditions:
· Peripheral vascular disease. This is when blood flow to the extremities is affected by diabetes. A minor cut or sore takes longer to heal. Poor blood flow to the extremities is called peripheral vascular disease. If you have a wound that gets infected and would not heal, you are at risk of getting ulcer or gangrene.
· Diabetic neuropathy. Again, poor blood flow can damage the nerves for your feet, causing decreased sensation to your feet. If you cannot feel a cut or sore on your foot, this can lead to infections.
Foot Care for Diabetics.
1. Control your diabetes. Monitor your blood sugar and maintain your blood sugar levels as per advice from your doctor. Take your medications regularly.
2. Inspect your feet daily. Check for cuts, sores, blisters or anything out of the ordinary. If you find a cut or sore in your feet that takes longer to heal, have it checked by your doctor.
3. Keep your feet clean. Wash your feet with mild soap and pat dry. Moisturize the feet except in areas between the toes to avoid fungal growth.
4. Wear thick socks and closed shoes that fit well. Check your shoes and make sure there are no objects inside.
5. Do foot exercises to increase blood flow to your feet.
It is recommended to regularly see a podiatrist once or twice a year; whether or not you think you have a foot problem. A comprehensive foot examination will determine the risk factors that may result in foot ulcers or worse, consequent foot amputation.
If you develop a foot wound, have it checked immediately. Call your podiatrist to schedule an appointment as soon as possible.
For more information on diabetic foot ulcers, you may contact Advanced Wound Healing Institute at (239) 430-3668 (FOOT). Advanced Wound Healing Institute is part of Family Foot and Leg Center, P.A.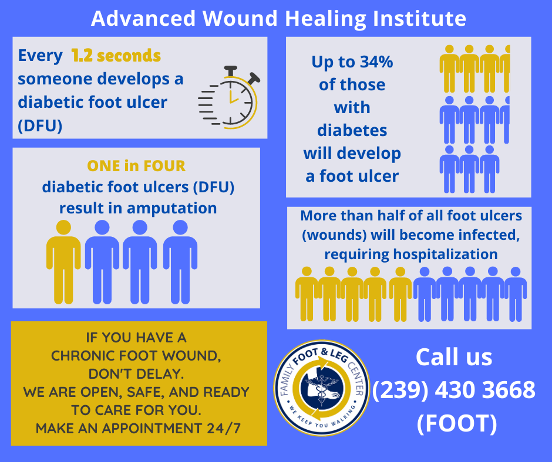 Faster recovery time
Better results
Improved long-term outlook
Optimal quality of life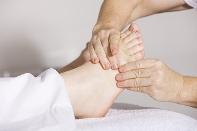 We use in-office advanced wound healing products from Organogenesis
If you have a foot, ankle, leg, knee wound, do not delay.


See us at any of our locations throughout Lee, Collier and Charlotte Counties.


Your wound healing experts.


9 convenient locations throughout Collier, Lee, Charlotte, and Sarasota Counties
DOWNTOWN NAPLES - Brennan Bldg, 730 Goodlette Rd, Suite 102
SE NAPLES - Mustang Center, 12250 Tamiami East, Suite 101, Naples FL
NORTH NAPLES - 840 111 Ave. North, Suite#3, Naples FL
ESTERO - Natoli Plaza, 21401 Corkscrew Village Lane, Suite 4
CAPE CORAL - 530 S.E. 16th Place, Suite A
FT MYERS INTERNATIONAL BLVD - 6846 International Center Blvd. Suite B
FT MYERS COLONIAL BLVD - 1645 Colonial Blvd
PORT CHARLOTTE - 3161 Harbor Blvd Suite B
SARASOTA - 3110 Fruitville Commons Blvd Suite 102
Diabetic foot ulcers lead to amputation and mortality
Diabetic foot ulcers lead to amputation and mortality, and thus, it is very important to prevent them. At the Advanced Wound Healing Institute, we offer advanced wound care for your feet and legs.

Our doctors are well trained from residency in conservative and advanced wound care options from simple debridement to advance grafting and flap techniques.

American College of Foot and Ankle Surgeons
Advanced wound care is a patient-centered and a multidisciplinary approach between podiatrist, vascular surgeon, and primary care doctor.

At the Advanced Wound Healing Institute, we specialize in the treatment of wounds that are difficult to heal. We offer the most current and advanced treatments in wound care.
What you need to know about P.A.D. Peripherial Arterial Disease Now
Frank discussion about Peripheral arterial disease (P.A.D.) in diabetics, how to save toes, legs and lives.

If you or your loved ones suffer from diabetes, must see us now. What you need to know now.
What you need to know about P.A.D. Peripherial Arterial Disease Now