730 Goodlette Road, Suite 102
Naples, FL 34102
Mustang Center
12250 Tamiami Trail East, Suite 101
Naples, FL 34113
840 111th Avenue, Suite 3

Naples, Florida 34108
21401 Corkscrew Village Lane, Suite 4

Estero, FL 33928
530 S.E. 16th Place, Suite A
Cape coral, FL 33990
6846 International Center Blvd, Suite B
FT Myers, FL 33912
1645 Colonial Blvd

Fort Myers,
FL 33907
3161 Harbor Blvd Suite B
Port Charlotte, FL 33952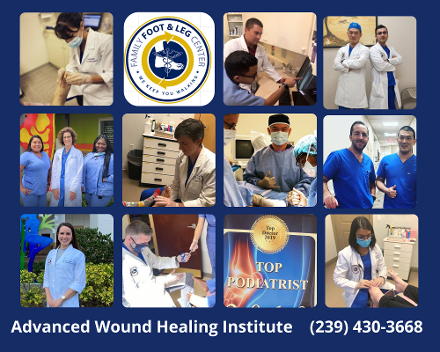 Our promise to you is to have our centers available for same day appts or within 24 hours on weekdays
Access to specialist:
Live Schedulers open 7 days a week 7am until 5pm Eastern Time,
8 centers throughout Lee, Collier and Charlotte Counties to get you back on your feet
Now accepting new patients, our doctors look forward to meeting you.
Advanced wound care is a patient-centered and a multidisciplinary approach between podiatrist, vascular surgeon, and primary care doctor. At FFLC, we specialize in the treatment of wounds that are difficult to heal. We offer the most current and advanced treatments in wound care.
See why we are the first choice for limb salvage in Florida
and the best wound care specialist
near you from Naples, FL to Port Charlotte, FL.