What are Non-Healing Wounds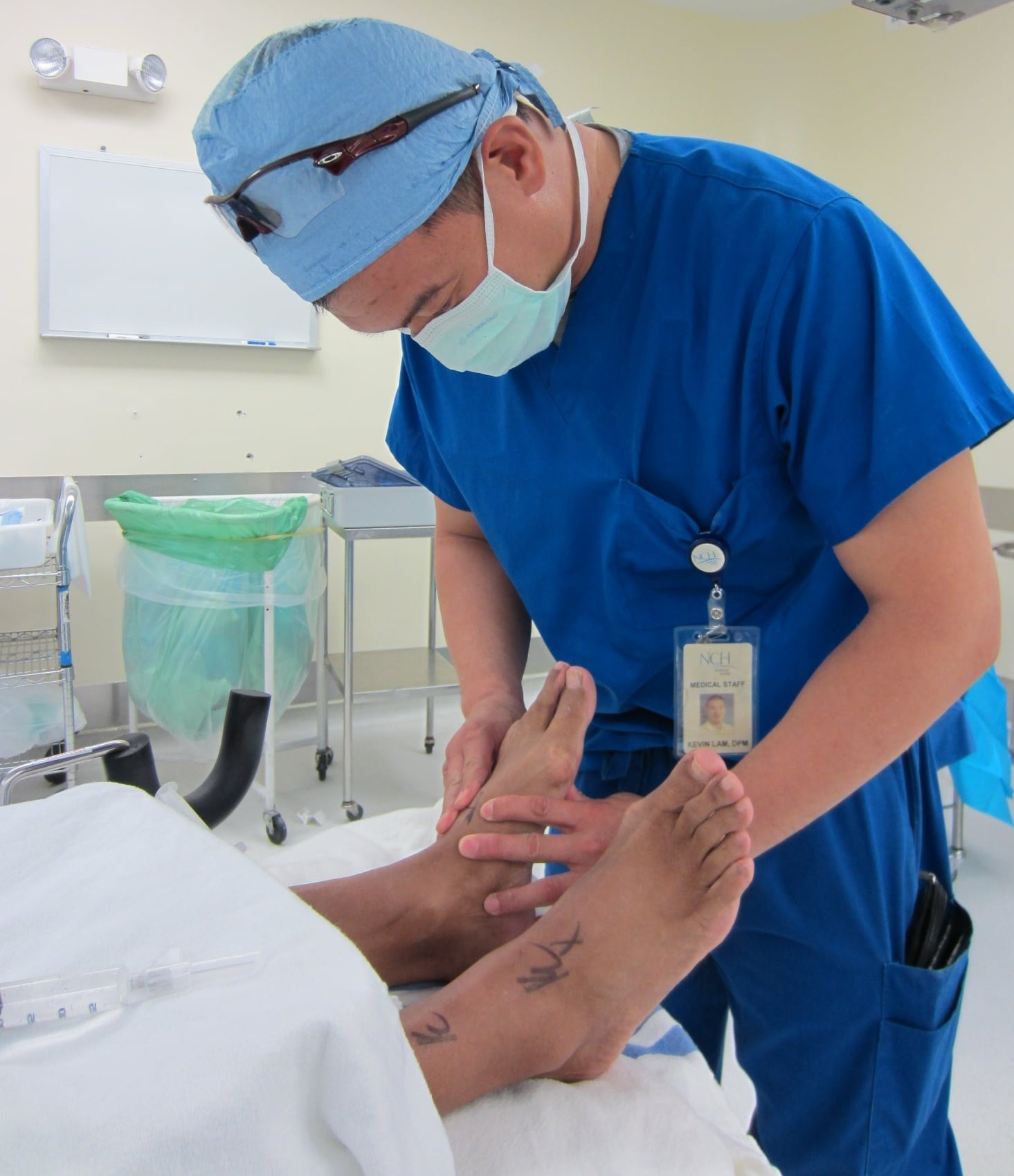 Non-healing wounds are generally defined as wounds that do not heal within 4 weeks. When this happens, it is usually because one of these conditions may be present.
1. Poor circulation. Wounds heal most efficiently when there is good blood flow, that is, an easy access to and from the wound through the body's circulatory system. Problems associated with venous insufficiency may be caused by valves inside the veins that prevent the backflow of fluids that are not functioning properly causing fluids to leak out and pool in the lower extremities. In arterial insufficiency, the most common cause is Peripheral Atherosclerosis Disease or PAD, which happens when blood flow is blocked by a plaque that forms on the inside of arteries.
2. Edema. This is the fluid that accumulates in the skin or dermis, usually in the lower extremities. Because of poor venous return, the fluid builds up and there is increased risk of developing venous ulcers. Edema causes swelling that can hinder effective wound healing.
3. Protein insufficiency. Adequate supply of protein is necessary for building new tissues. Thus, in the treatment of wounds, the amount of protein may be up to 3x the recommended daily requirement.
4. Repetitive trauma to the wound. This can delay the healing process or even stop it completely.
5. Infection. This happens when invaders such as bacteria, virus, or fungus enter a wound site. The bacterial flora found in a non-healing wound changes as the ulcer progresses. When there are co-existing problems such as those mentioned above, the infection can be difficult to resolve.
Chronic wounds often remain in the inflammatory stages for too long. It may take years to heal or may not heal at all. For people with non-healing wounds, pain is a constant problem.
Any foot or leg wound that does not heal or takes too long to heal should be seen by a wound specialist because it might be infected and might be due to an underlying disease.
For more information, you may contact Advanced Wound Healing Institute at (239) 430-3668 (FOOT). Advanced Wound Healing Institute is part of Family Foot and Leg Center, P.A. with 9 convenient locations throughout Collier, Lee, Charlotte, and Sarasota Counties. to get you back on your feet.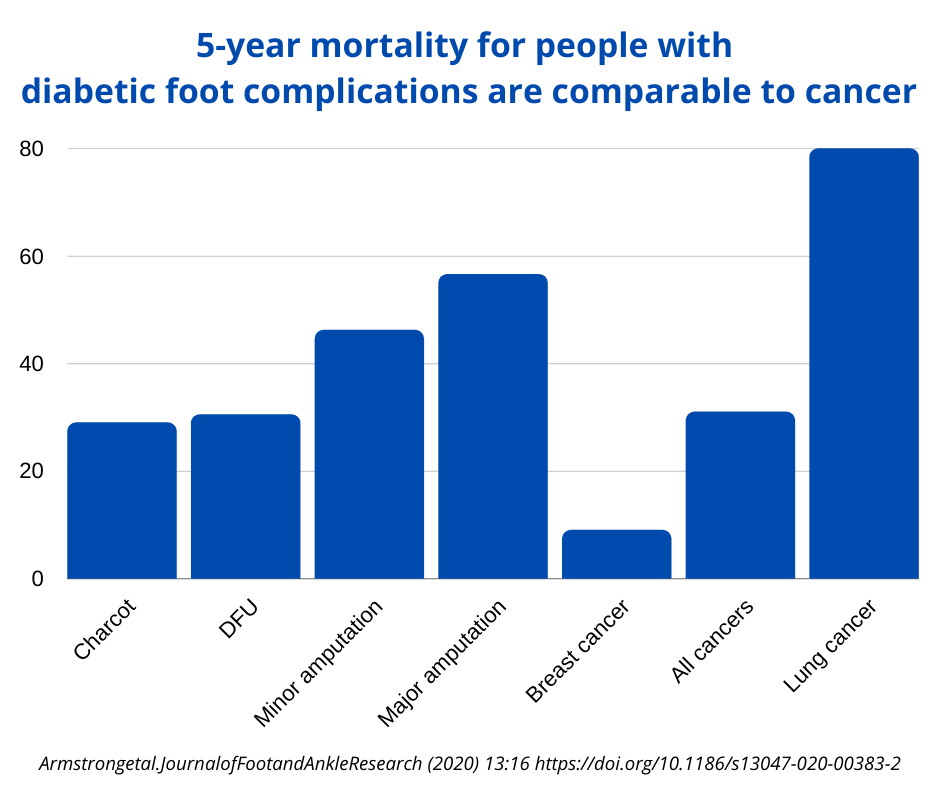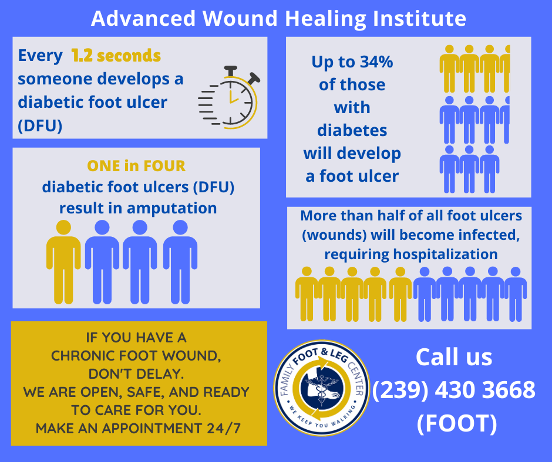 Faster recovery time
Better results
Improved long-term outlook
Optimal quality of life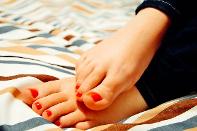 We use in-office advanced wound healing products from Organogenesis
If you have a foot, ankle, leg, knee wound, do not delay.


See us at any of our 9 convenient locations throughout Collier, Lee, Charlotte, and Sarasota Counties.


Your wound healing experts.

Diabetic foot ulcers lead to amputation and mortality
Diabetic foot ulcers lead to amputation and mortality, and thus, it is very important to prevent them. At the Advanced Wound Healing Institute, we offer advanced wound care for your feet and legs.

Our doctors are well trained from residency in conservative and advanced wound care options from simple debridement to advance grafting and flap techniques.

American College of Foot and Ankle Surgeons
Advanced wound care is a patient-centered and a multidisciplinary approach between podiatrist, vascular surgeon, and primary care doctor.

At the Advanced Wound Healing Institute, we specialize in the treatment of wounds that are difficult to heal. We offer the most current and advanced treatments in wound care.
What you need to know about P.A.D. Peripherial Arterial Disease Now
Frank discussion about Peripheral arterial disease (P.A.D.) in diabetics, how to save toes, legs and lives.

If you or your loved ones suffer from diabetes, must see us now. What you need to know now.
What you need to know about P.A.D. Peripherial Arterial Disease Now