How to Take Care of Chronic Wounds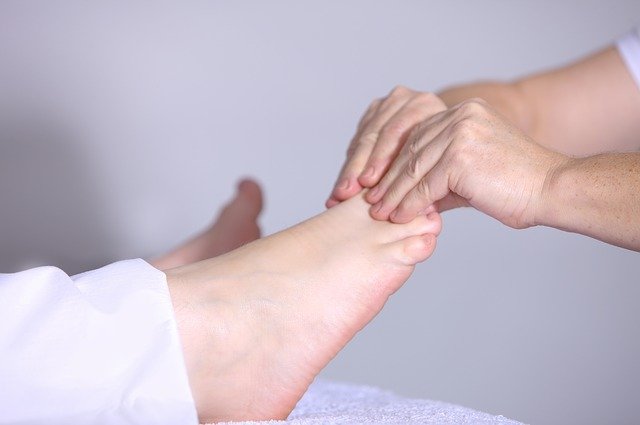 A chronic wound is a skin wound that heals very slowly, doesn't heal, or may heal but tends to recur. There are several causes of chronic skin wounds like burns, skin cancer, trauma, an infection or an underlying medical condition like diabetes. Wounds that are difficult to manage and take a long time to heal need special care.
Causes:
· Diabetic neuropathy - a condition in which there is a decreased sensation to the extremities, particularly on the feet, making your feet prone to ulcers and infections.
· Peripheral vascular disease, again, commonly caused by diabetes. This causes decreased blood flow to the feet, making minor cuts and wounds difficult to heal. In worse cases, these wounds can get infected and cause gangrene (diabetic foot) with can lead to amputations.
· Pressure wounds. Constant pressure in one area of the skin can cause injury to that area, such as bedsores. Pressures wounds on the foot can also cause foot ulcers among people with diabetes.
· Burns
· Leprosy
· Certain infections caused by Tuberculin bacteria
Mechanism of Wound Healing
When the skin gets injured, the body has an automatic response to repair itself, often referred to as "the healing cascade". The healing cascade has 4 phases.
1. Hemostasis phase – the first phase of wound healing, and it starts immediately after injury. The main objective of this phase is to stop the bleeding.
2. Inflammatory phase – in this stage, the body's white blood cells attack any invading bacteria or any foreign objects or debris. The main goal of this stage is keep the wound sterile.
3. Proliferative Phase – is a complex phase and its goal is to cover up the wound, fill the wound with granular tissue, and contract the margins. This is when a thick, red, shiny, granular tissue forms on top of the wound. Eventually, new tissue is formed under the wound bed.
4. Maturation phase – during this stage, the new tissue starts to mature and slowly gains strength and flexibility.
Methods for diagnosis:
When dealing with chronic wounds, identifying the cause is important so that the underlying factors can be controlled. A very good example for this is foot ulcer caused by diabetes. Your doctor will first control your blood sugar levels and then refer you to a podiatrist to prevent the recurrence of ulcers in the future.
It is recommended to regularly see a podiatrist once or twice a year; whether or not you think you have a foot problem. A comprehensive foot examination will determine the risk factors that may result in foot ulcers or worse, consequent foot amputation.
If you develop a foot wound, have it checked immediately. Call your podiatrist to schedule an appointment as soon as possible.
For more information on diabetic foot ulcers, you may contact Advanced Wound Healing Institute at (239) 430-3668 (FOOT). Advanced Wound Healing Institute is part of Family Foot and Leg Center, P.A.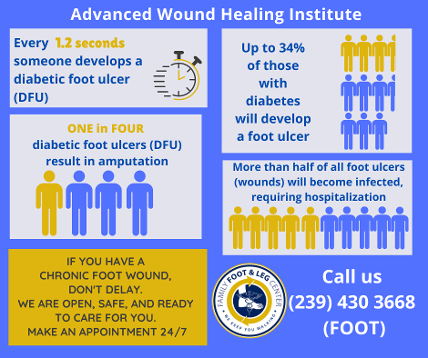 Faster recovery time
Better results
Improved long-term outlook
Optimal quality of life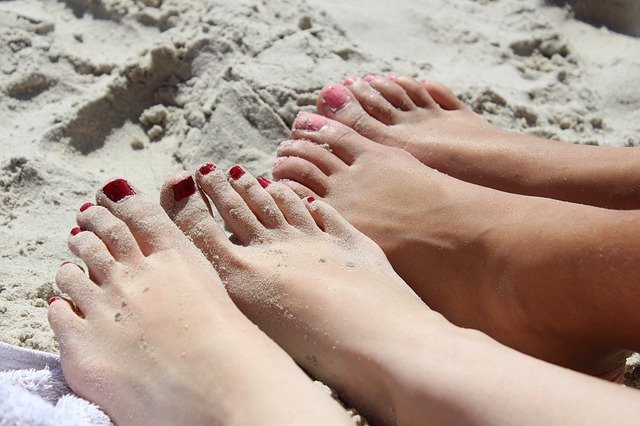 We use in-office advanced wound healing products from Organogenesis
If you have a foot, ankle, leg, knee wound, do not delay.


See us at any of our locations throughout Lee, Collier and Charlotte Counties.


Your wound healing experts.


Diabetic foot ulcers lead to amputation and mortality
Diabetic foot ulcers lead to amputation and mortality, and thus, it is very important to prevent them. At the Advanced Wound Healing Institute, we offer advanced wound care for your feet and legs.

Our doctors are well trained from residency in conservative and advanced wound care options from simple debridement to advance grafting and flap techniques.

American College of Foot and Ankle Surgeons
Advanced wound care is a patient-centered and a multidisciplinary approach between podiatrist, vascular surgeon, and primary care doctor.

At the Advanced Wound Healing Institute, we specialize in the treatment of wounds that are difficult to heal. We offer the most current and advanced treatments in wound care.
What you need to know about P.A.D. Peripherial Arterial Disease Now
Frank discussion about Peripheral arterial disease (P.A.D.) in diabetics, how to save toes, legs and lives.

If you or your loved ones suffer from diabetes, must see us now. What you need to know now.
What you need to know about P.A.D. Peripherial Arterial Disease Now