For people with diabetes, even minor foot, ankle, or leg wounds can turn into foot ulcers. A diabetic foot ulcer is an open wound that can affect around 15 percent of patients with diabetes. It commonly appears on the bottom of the foot.

The common signs and symptoms of a diabetic foot ulcer are redness and swelling in the wound area, appearance of drainage on the person's socks, and unpleasant odor is the ulcer has progressed significantly.
In the United States, diabetes is the leading cause of non-traumatic lower extremity amputations. Foot ulcers precede 85 percent of diabetes-related amputations.
But the good news is that the development of foot ulcers is preventable.
To reduce the risk of developing a foot ulcer, it is best to avoid smoking and control alcohol consumption, maintain normal cholesterol levels, control blood glucose levels, wear protective and supportive footwear, and inspect feet daily.
Because of the high morbidity and risk of lower extremity amputation, foot wound in diabetic patients should be seen and assessed immediately. Any foot infection in patients with diabetes should be considered potentially serious.
The infection can get to the bone and muscle very quickly. Together with poor blood flow, this can lead to more serious complications, and ultimately amputation. Thus, if you have a foot ulcer or notice that your foot wound does not heal or is slow to heal, see your doctor for proper evaluation.
It is recommended to regularly see a podiatrist once or twice a year; whether or not you think you have a foot problem. A comprehensive foot examination will determine the risk factors that may result in foot ulcers or worse, consequent foot amputation.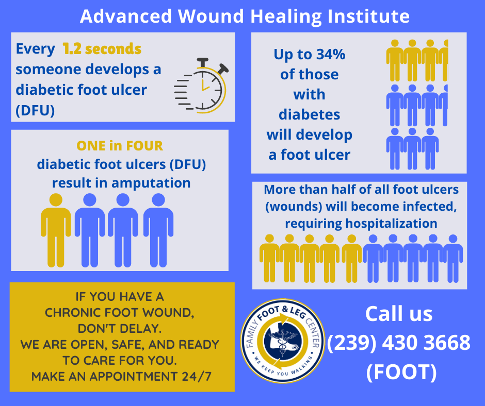 If you develop a foot wound, have it checked immediately. Call your podiatrist to schedule an appointment as soon as possible.
For more information on diabetic foot ulcers, you may contact Advanced Wound Healing Institute at (239) 430-3668 (FOOT). Advanced Wound Healing Institute is part of Family Foot and Leg Center, P.A.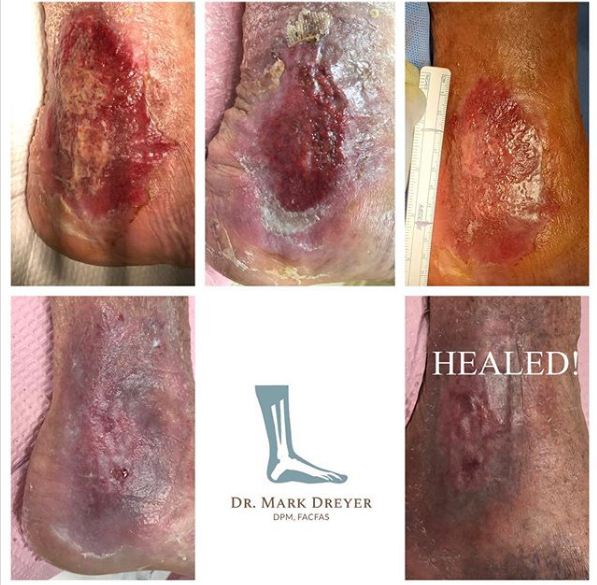 Faster recovery time
Better results
Improved long-term outlook
Optimal quality of life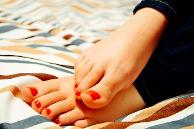 We use in-office advanced wound healing products from Organogenesis
If you have a foot, ankle, leg, knee wound, do not delay.


See us at any of our locations throughout Lee, Collier and Charlotte Counties.


Your wound healing experts.


Diabetic foot ulcers lead to amputation and mortality
Diabetic foot ulcers lead to amputation and mortality, and thus, it is very important to prevent them. At the Advanced Wound Healing Institute, we offer advanced wound care for your feet and legs.

Our doctors are well trained from residency in conservative and advanced wound care options from simple debridement to advance grafting and flap techniques.

American College of Foot and Ankle Surgeons
Advanced wound care is a patient-centered and a multidisciplinary approach between podiatrist, vascular surgeon, and primary care doctor.

At the Advanced Wound Healing Institute, we specialize in the treatment of wounds that are difficult to heal. We offer the most current and advanced treatments in wound care.
What you need to know about P.A.D. Peripherial Arterial Disease Now
Frank discussion about Peripheral arterial disease (P.A.D.) in diabetics, how to save toes, legs and lives.

If you or your loved ones suffer from diabetes, must see us now. What you need to know now.
What you need to know about P.A.D. Peripherial Arterial Disease Now