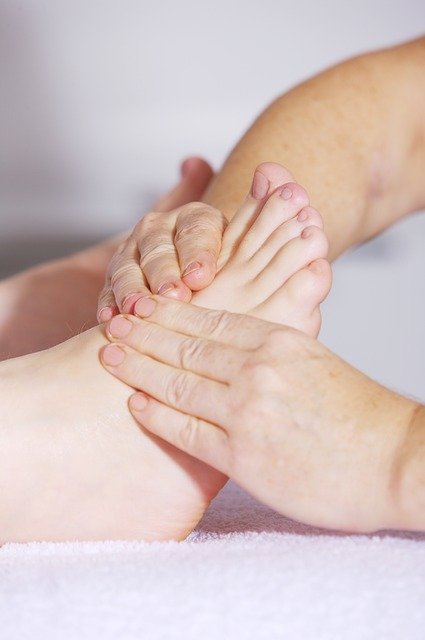 Getting cuts and scratches is inevitable, especially for people with active lifestyles. That's why it is very important to know what to do in case this does happen. The key is to immediately clean the wound properly to prevent infection. Below are 7 steps on proper wound care:
1. Sanitize your hand.
When you shake someone's hand or touch an object, you've most likely picked up some bacteria, mold or virus. Around 1,500 bacteria live in every square inch of the hands, even more underneath the fingernails and in between the fingers. So it is crucial to sanitize your hand before touching any wound or cut. Do this by simple washing with soap and water. Soap instantly emulsifies the outer lipid area of most bacteria, killing the little microbes. Having clean hands lessens the possibility of passing on the bacteria to the wound area.
2. Apply Pressure.
Do this only when your wound is bleeding. Take a piece to sterile gauze or clean cloth and gently apply pressure, wait for a minute and check if the bleeding stops. The deeper cuts take longer time to control the bleeding.
3. Clean the Wound Right Away
Once the bleeding stops, check if there is any foreign matter on the wound. Remove any dirt and debris, and gently wash with soap and water for about 3 minutes. This will loosen up any remaining dirt and kill some of the bacteria. Now wash off all the suds and pat dry with a clean cloth. Do not rub or the wound may open and start to bleed again.
4. Apply an Antibiotic cream or ointment
Any over the counter topical antibiotic ointment will do. Not only will these ointments keep the wounds bacteria-free, it will also keep the wound moist, which helps accelerate wound healing.
5. Cover up the with a Bandage.
It is best to cover any wound with a bandage, especially if it's a fresh one. This is to prevent any dust or dirt from falling on the wound or accidental grazing or scratching as well as prevent bacteria from coming in contact with the wound. Remember to clean the wound and change the bandage daily.
6. Check for any signs of infection.
Observe for any swelling, redness, tenderness, or fluid coming out of the wound. Watch out for fever, chills, or body aches.
See your podiatrist immediately if
1. the wound is very deep or very long
2. the bleeding does not stop even after several minutes of pressure
3. the wound area is very painful
4. you have a ragged or gaping wound
5. the wound has foreign matter stuck in it such as gravel, dirt, etc
6. the wound was caused by a bite
7. you have a broken bone
8. the wound has signs of infection
9. your tetanus vaccine is not up to date
If you develop a foot wound, have it checked immediately. Call your podiatrist to schedule an appointment as soon as possible.
For more information on diabetic foot ulcers, you may contact Advanced Wound Healing Institute at (239) 430-3668 (FOOT). Advanced Wound Healing Institute is part of Family Foot and Leg Center, P.A.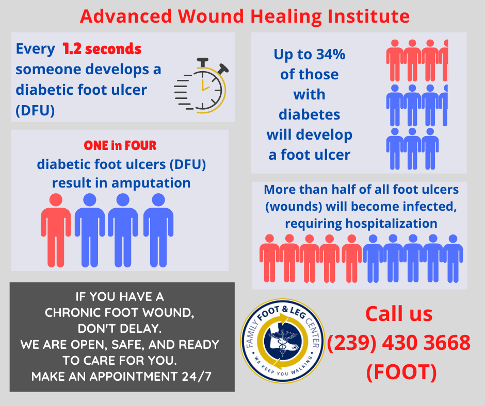 Faster recovery time
Better results
Improved long-term outlook
Optimal quality of life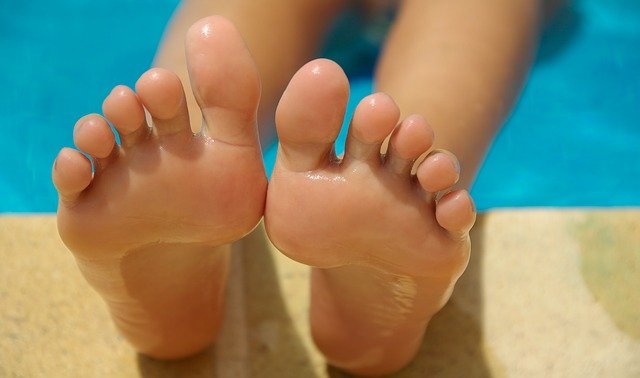 We use in-office advanced wound healing products from Organogenesis
If you have a foot, ankle, leg, knee wound, do not delay.


See us at any of our locations throughout Lee, Collier and Charlotte Counties.


Your wound healing experts.


Diabetic foot ulcers lead to amputation and mortality
Diabetic foot ulcers lead to amputation and mortality, and thus, it is very important to prevent them. At the Advanced Wound Healing Institute, we offer advanced wound care for your feet and legs.

Our doctors are well trained from residency in conservative and advanced wound care options from simple debridement to advance grafting and flap techniques.

American College of Foot and Ankle Surgeons
Advanced wound care is a patient-centered and a multidisciplinary approach between podiatrist, vascular surgeon, and primary care doctor.

At the Advanced Wound Healing Institute, we specialize in the treatment of wounds that are difficult to heal. We offer the most current and advanced treatments in wound care.
What you need to know about P.A.D. Peripherial Arterial Disease Now
Frank discussion about Peripheral arterial disease (P.A.D.) in diabetics, how to save toes, legs and lives.

If you or your loved ones suffer from diabetes, must see us now. What you need to know now.
What you need to know about P.A.D. Peripherial Arterial Disease Now